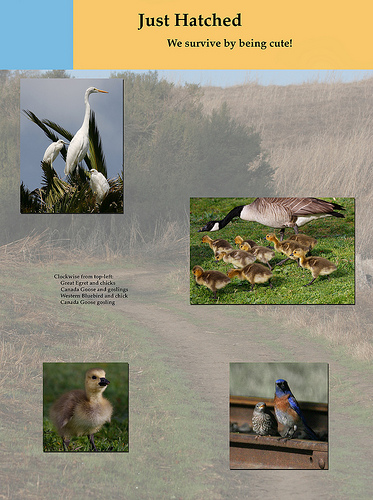 Many birds place their nurseries in surprisingly public places, making it easy for families to take the kids to see the baby birds.
Great Egret: It would be hard to imagine a more public nursery than the heronry at Palo Alto Baylands. And yet here they are, Great Egrets, Snowy Egrets, and Black-crowned Night Herons all together feeding their chicks as small planes take off and land at the adjacent airport, and parents and their kids, in spite of the signs, feed the ducks in the duck pond.
Canada Goose: Common, but still very much adored by families with kids who visit and play often at Vasona Lake Park. But, again, don't feed these cute babies; their mom would rather they eat the healthy grass!
Western Bluebird: Open meadow, a few trees, and bugs to eat--what else does a baby Bluebird want? Visitors to the Saratoga Public Library will recognize the tracks for Billy Jones Wildcat Railroad here at Vasona Lake Park.
Canada Goose: A close look at this baby reveals the absolute softness of down--baby goose feathers. Soft, and warm.